Your sewing and embroidery journeys become one with the Baby Lock Unity. A sizeable, 7" x 12" embroidery hoop opens the door to larger embroidery designs. Plus, numerous innovative features powered by Baby Lock IQ Technology™ further enhance your creative journey. Precision-dedicated, IQ powered features, such as the Digital Dual-Feed System and the Sensor Pen make sewing and embroidery easier. Effortlessly blend your love of sewing and embroidery with the Baby Lock Unity.
---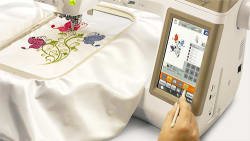 ---
Why Buy from Quilt Elements?
Our Customers Come First
Receive help and assistance, right from the start, whether in person or on the phone. There is no question too large or too small on anything you need to know about sewing and embroidery.
Owner's Classes
Owner's classes are included with the purchase of your machine from Quilt Elements. Specialty classes and clubs are also available to increase your knowledge and fun!
Quality at Great Prices
We sell and service a wide variety of sewing, embroidery and quilting machines. Great quality at a great price with fun & friendly Service. Our staff strives to exceed your expectations.
Trade-Up Program
Start with the machine that meets your needs and budget. As your sewing needs change, trade-up opportunities are available.
Machine Owner's Club
As long as you own your machine, you will receive a 10% discount on all machine accessories, thread, stabilizer, and batting! You are also subscribed to a machine owner's club newsletter, with special offers and updates. You also will receive discounts on clubs and education events!